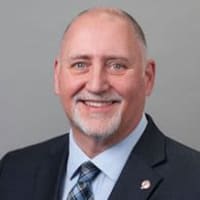 Jim Bettendorf

President & Chief Executive Officer
February 10, 2016
A recognized leader and innovator in senior health care services, with nearly 40 years in the field, Jim was appointed President and Chief Executive Officer of Vista Prairie Communities (VPC) in early 2016. He provides leadership for a mission-driven organization serving about 700 older adults in eight senior living communities in four states (Minnesota, Iowa, Wisconsin and Ohio) and employing about 400 committed caregivers.
Prior to assuming his current role, Jim served for more than 12 years with Volunteers of America – Minnesota and Wisconsin (VOA-MN/WI), one of the largest health and human services organizations in the region. Jim began his service as the Director of Housing and concluded as the Vice President and Chief Services Officer. Jim was commissioned as a Volunteers of America Minister and served as the Lead Minister for the Minnesota/Wisconsin affiliate.
His VOA-MN/WI service was preceded as the housing administrator for the Bloomington, MN campus of Presbyterian Homes. While there, Jim developed and opened the first HUD Assisted Living Conversion Program (ALCP) in the nation leading the way for affordable assisted living services in HUD subsidized properties.
In 2019 Jim was elected to the Board of Directors of the Minnesota Nonprofit Insurance Trust. He is a former member of the Board of Directors of LeadingAge Minnesota. In 2017 he was named one of "50 for the next 50" – Innovative Leaders Transforming and Enhancing the Experience of Aging.
Jim graduated with a degree in Business Administration from the University of Minnesota, Twin Cities.
Anna Petersmeyer

Executive Vice President & Chief Operating Officer
Novemebr 2, 2020
Anna Petersmeyer is a visionary practitioner and leader in senior health services with more than 20 years in the field. In addition to her operational leadership for all communities within the organization, she also supervises Vista Prairie's clinical management and its sales and marketing function.
In 2023 Anna joined the Board of Directors for LeadingAge Minnesota. She has served on LeadingAge's Housing, Home Care & Assisted Living and HUD/Affordable Housing Committees.
Prior to joining Vista Prairie Communities, Anna was Chief Operating Officer of Volunteers of America – Minnesota and Wisconsin (VOA-MN/WI), one of the area's largest health and human services organizations. In addition to her VOA-MN/WI role, Anna served on the VOA National Housing Board of Directors, with services in 42 states and Puerto Rico. She received the 2015 VOA National Leadership Award for outstanding operational management in Housing, Older Adult Services and Assisted Living.
Anna is a Licensed Social Worker and holds a Masters of Business Administration from Bethel University. She also completed post graduate studies at the Stanford Graduate School of Business. She grew up on a dairy farm in rural Wisconsin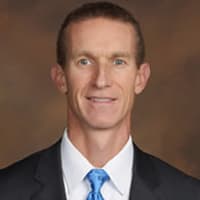 Dewey Pettit

Executive Vice President & Chief Financial Officer
June 20, 2021
Dewey Pettit brings nearly 30 years of financial management experience and a wide array of leadership and coaching to his role as Vista Prairie's Vice President and Chief Financial Officer. He is eager to be a part of Vista Prairie's growth, given the industry and demographic forecasts for future demand in senior living options.
In his previous for-profit role at HomeRiver Group, Dewey was responsible for all of the property management company's financial reporting, accounting and treasury functions. At HomeRiver he built the accounting team, implemented their financial reporting system and integrated numerous acquisitions that more than tripled the size of the company.
As the Chief Audit Executive at Polaris Industries, Dewey streamlined external and internal audit and implemented a process improvement practice. As the Director of Sales Operations, he supported the North American sales team of more than 100 members as they increased revenue by more than 150 percent. Prior to Polaris, Dewey also held various financial planning and analysis leadership roles at Boston Scientific.
He started his career at KPMG in their assurance practice and was a Certified Public Accountant for six years. Dewey earned his BBA in Accounting from Saint John's University and holds an MBA from Indiana University, with a major in Finance. He's the Executive Director and Treasurer of the Plymouth Wayzata Youth Baseball Association and lives in Maple Grove, MN with his wife and their two children.
Scott Hamman

Executive Vice President & Chief Administrative Officer
October 16, 2017
Scott Hamman was named to his new CAO role in June 2021, adding Organizational Risk Management and Organization Performance Excellence to his existing responsibilities in leading the Human Resources team, the role for which he joined Vista Prairie Communities in 2017.
During his tenure, Scott and his team have introduced progressive and state-of-the-art human resources programs in engagement, benefits and staff development. When the pandemic began in 2020, Scott led our Infectious Disease Preparedness Team, charged with keeping our residents and staff members as safe as possible from COVID-19. They did a remarkable job, earning an admirable record for prevention and response. Scott also served as our interim COO for several months in 2020.
Before joining Vista Prairie, Scott served as the Director of Human Resources and as the Director of Talent Acquisition and Diversity at Allina Health for more than nine years, capping an Allina career that spanned 18 years in a variety of HR roles. He holds a Bachelor of Arts from Luther College, and a Master's in Management and Health and Human Services Administration from St. Mary's University.
Jeff Smith

Vice President of Philanthropy & Advocacy
January 31, 2019
Growing up in a small town, Jeff learned the value of community. He tells stories of compassionate care and joy in all the communities that Vista Prairie serves. In the process he builds relationships with people and organizations who support our mission, through generous donations, grants or government relations. Jeff also is an active member of LeadingAge MN, currently serving as incoming chair of the organization's Recognition Committee.
He's a veteran healthcare executive, most recently at Volunteers of America – Minnesota and Wisconsin. Previously he led communications and business development functions for UnitedHealthcare Community & State, managing Medicaid and other public sector health benefits programs. He has additional corporate communications experience at Carlson Companies and Northwest Airlines.
With an undergraduate degree from Indiana University, Jeff completed post graduate studies at the Carlson School of Management, University of Minnesota, and in nonprofit executive programs at the Mendoza School of Business at Notre Dame.
Rachelle Strasburg

Vice President of Sales & Marketing
July 5, 2022
Rachelle Strasburg has a heart for service, a passion to transform aging services, and the experience to help our communities reach out to new residents. She joins Vista Prairie Communities as an 18-year veteran in senior care, specializing most recently in aging services campaigns and strategies for marketing initiatives.
She formerly served as the Corporate Director of Marketing for SilverCrest Properties and as a Corporate Sales and Marketing Consultant for Ebenezer. Rachelle began her senior services career as a caregiver at a senior living organization in Rochester, MN. She worked as a manager in residential memory care and later transitioned into independent living property management. Rachelle enjoys navigating and understanding the customer's journey so that she can create thoughtful content, resources, and campaigns to support them as well as organizational goals.
Rachelle is an active member of LeadingAge Minnesota, having completed its Leadership Academy in 2019 and the organization's Sales and Marketing in Senior Housing Certification program. She attended school at North Hennepin Community College and the University of Minnesota.